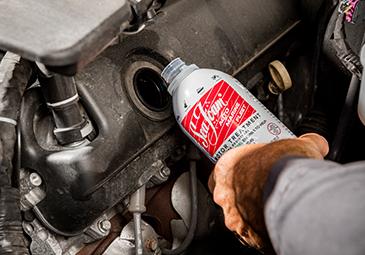 Benefits
When added to gasoline and diesel crankcase oil, Sea Foam Motor Treatment works to help:
Safely liquefy petroleum residues that restrict flow and lubrication.
Clean oil control rings, vvt solenoids and actuators.
Dissolve and clean deposits throughout the crankcase including diesel soot residues.
Clean and quiet noisy lifters and timing chain tensioners and reduce diesel injector stiction.
Instructions
First determine the engine's crankcase oil capacity. Check in your vehicle's owner's manual for the size of your crankcase. One can of Sea Foam Motor Treatment treats approximately 16 liters of oil.
Add 30mL of Sea Foam Motor Treatment for every liter of oil in the crankcase. When ready, remove oil filler cap and pour the recommended amount of Sea Foam directly into the engine crankcase. Do not exceed one treatment per oil change interval.
Note:

Though Sea Foam can be added at any time between oil change intervals, we recommend adding Sea Foam to an oil crankcase 150 to 450 drive kilometers before changing oil and filter.
Conclusion
Sea Foam Motor Treatment can be used in every type of gasoline or diesel engine. When added to an engine's oil crankcase, Sea Foam Motor Treatment works to clean and liquefy heavier oil deposits, so the residues will drain away when the oil is changed. Sea Foam cleans internal engine parts, prevents sludge and other harmful oil formations.
Watch The How 2 Video
HOW TO ADD SEA FOAM MOTOR TREATMENT TO CRANKCASE OIL
Brian from Sea Foam shows how easy and important it is to add Sea Foam to crankcase oil. Sea Foam works to dissolve and liquefy petroleum deposits that grow too big and sticky to drain. Use in gas or diesel oil crankcases to safely clean and quiet noisy lifters, cleans chain tensioners, actuators, VVT solenoids, oil control rings, and cleans out oil passageways. Cleaner engines last longer!