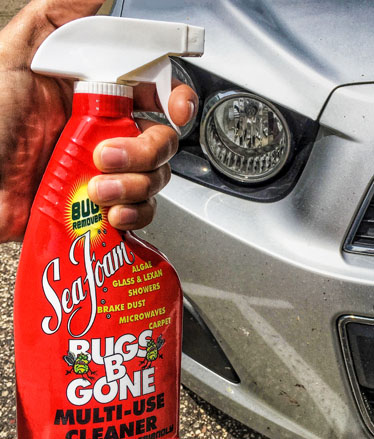 Benefits
Safely cleans tough road bugs, grime, tree sap & other organic residues from car & truck surfaces, RVs, motorcycles, boats & more!
Safe on chrome, paint, windshields, mirrors, plastics, gel coat, metal & wheels!
Fast, effective, no film or haze
Odorless & biodegradable
Water-activated
Directions
Spray on a cool surface.
Let it soak for at least 2 minutes.
Wipe with a wet cloth or wash away with water.
Remember: do not apply to a hot surface or under direct sunlight.
BUGS B GONE is also great for stains, kitchen and bath mildew, brake dust and much more!
Summary
BUGS B GONE safely cleans tough road bugs, grime, tree sap and other organic residues from car and truck surfaces, RVs, motorcycles, boats and more! BUGS B GONE also helps loosen and remove tough organic stains – use it in bath, kitchen, and household cleaning as a pre-soak or spot cleaner. Great for boating, camping, and road trips!
BUGS B GONE is a surfactant, which means it loosens and removes stubborn organic crud (like sticky bugs) by breaking its bond from a surface or material. Safe on all surfaces, BUGS B GONE contains no harsh chemicals and does not leave a film or haze.
Spray it on bugs, grime, food, or other sticky, organic crud to loosen. Then just wipe with a wet cloth or wash away with water!
Watch The How 2 Video
THE SAFE & EASY WAY TO CLEAN STUBBORN CRUD FROM VEHICLES? TRY BUGS B GONE!
If you own a car, truck, camper, RV, boat, motorcycle… you gotta try this stuff. Works fast and safe to clean any vehicle surface! Safe on clear coat and painted surfaces, Lexan, windshields, headlights, chrome, plastic, vinyl carpet…any vehicle surface. Cleans bug splatter, road grime, mildew, dried algae, brake dust, exhaust soot.