We all know what it's like to return home from a weekend road trip only to find your car's front bumper, hood, and windshield splattered with various bugs, tar, and other roadside elements. Even your daily commute during the spring and summer months can leave your car looking rather unsightly.
Bugs, tar, bird droppings, and other organic crud can all damage your car's paint over time. When this occurs, it's important to remove these stains quickly, as waiting too long to do so can cause damage to your car's exterior. This can be a challenge, as you might not always have easy access to a car wash or hose, and the cost of repeatedly getting your car washed can quickly add up. Even still, thorough car washes are not always effective in removing those baked-in or particularly tough stains.
Introducing Bugs B Gone from Sea Foam.
Bugs B Gone is a portable, inexpensive solution that can do away with bug stains and other organic crud in seconds – without damaging your car's paint. Bugs B Gone safely and effectively cleans all of your car's exterior surfaces, including: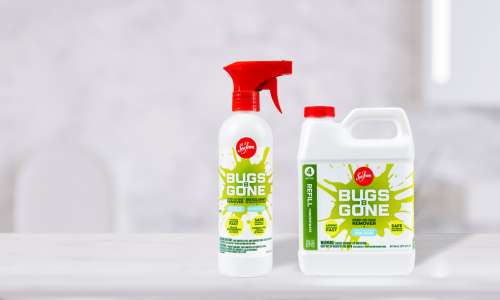 Paint
Windshield
Windows
Mirrors
Plastics
Gel coat
Chrome
Metal
Wheels
HOW TO REMOVE STAINS WITH BUGS B GONE
Before applying Bugs B Gone to your car, you may want to get a car wash to help make stain removal easier and to make the stains themselves more visible.
Spray Bugs B Gone onto the cooled surface. Do not apply Bugs B Gone to a hot surface or under direct sunlight.
Let the spray soak for at least two minutes. This gives the cleaner time to loosen the organic material causing the stain. Bugs B Gone is a surfactant that loosens and removes stubborn organic substances by breaking their bond with your vehicle's surface. This loosening process is what allows you to remove the stain without scrubbing too hard and risking damage to the paint.
Wipe the stain away with a microfiber cloth.
Wash away with water.
Repeat until stains are removed from the affected area(s).